Editor's Note: Amanda Ong is currently an undergraduate student at Columbia University in the City of New York. She was born in Hong Kong to Chinese-American parents, but grew up primarily in Southern California. At Columbia she works on the Daily Spectator and is a member of the Asian American Alliance. She is very passionate about writing as well as social justice, and is continuously trying to work towards activist causes.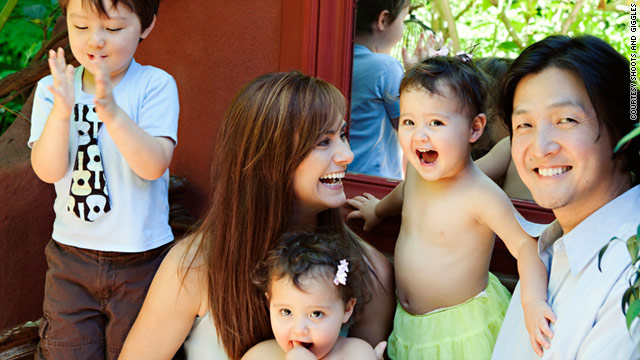 Actress Diane Farr poses for a family portrait with her husband, Seung Yong, and their three children. Credit: CNN
"The only person who can tell my kids are part Asian is the haircutter," my cousin laughs. "He says their hair is so thick and full, they had to be Asian."
When I visit my uncle for Thanksgiving, all of the attention is on my nephews and niece; all three are blue eyed, bright, and under five years old. They are still at an age where the world is full of unfathomable wonder: They look at every rock, every plant, and every animal bare of assumptions. There is endless potential. They look and see a world where everything has the capacity to be anything. But the world looks at them and sees kids who are white. They are three and five, and already boxed into this construct. My uncle was the only one of both my mother and father's siblings to marry a white person. His two kids, my cousins, are both nearly twenty years older than I am. And their kids, my nephews and niece, are beautiful, one-quarter Chinese children, over ten years younger than I but possessing twice my vivacity.
Big blue eyes and thick blonde hair—we share blood, and yet there is no symmetry in our features. I want to look at them and never question our relation, never feel like ties of race separate us. But in the back of my mind, I can't help but be perplexed. I can't help but see them and see things I am not. I can't help but see our differences. It is hard for me to look at the three of them without thinking, "How is it we're related? How is it they're Chinese American too?"
But they rush up to my uncle and hold his hand in a way only grandchildren and their grandfathers do, and they call him by the same name I have always called my grandfather. It is in moments like this I have to remind myself that being Asian American, being Chinese American, is about much more than hair, and eyes, and skin. While my Chinese and Asian identity has grown around the fact that I "look" Asian, and around other's ability to see me and see Asian, there is so much more to this identity than that. And my nephews and niece share that. They are white, but they are Asian American too. They are Chinese American too.
Still, they are perceived as only being white. It is easy to forget that the lines of race we try to divide ourselves with are ever ambiguous. There is no distinct point where a person's eyes become definitively "Asian looking" or "White looking". Humans have been migrating and mutating and mixing for thousands upon thousands of years. No one is of a pure race: A pure race does not exist. But our connections to family and culture are greater than all of these constructed divides. Family reflects not just shared blood, but shared experience. It reflects shared upbringing. Shared childhoods. Shared art, and food, and values.
The blood I share with my nephews and niece matters far less than the food we share at the dinner table. And our lack of shared facial features matters even less than that. We are family—an Asian American family, a Chinese American family, a White American family. We are all of these things and none of these things. In this moment of Thanksgiving, perhaps all of us are just people who share a meal.
And yet in that alone we are a powerful force. We sit together. We eat together. We stand together. We fight together. As we came together on Thanksgiving I thought hard about what it `means to be Asian American: what connects us, what divides us, how we are the same, and how we are all different. Still, I always find the bonds we share will always be stronger than the rifts between us. But the fight we fight together—that is what transcends all. And that is something I could not be more thankful for.
Note: The AAA-Fund welcomes a diversity of views and voices. In that spirit, the views expressed in this article are the author's own. Unless an article states that it was written by the AAA-Fund or its Board of Directors, it does not necessarily reflect the views of the AAA-Fund.